Zen Pilot – Robert DeLaurentis
This week we sat down with Robert DeLaurentis, pilot, real-estate agent, author and citizen of the world. Nicknamed the "Zen Pilot" Robert had completed a successful equatorial circumnavigation in single engine Piper Malibu Mirage. Robert is currently in the middle of a pole to pole circumnavigation in his plane 'Citizen of the World'. We were lucky enough to catch Robert while he was grounded in Switzerland between legs of his current journey. This conversation ranges in topics from international bureaucracy to philosophical musings. This insightful episode will be entertaining for pilots and non-pilots alike. Listen in as DJ and Robert discuss life, PrideFlight, motivations and offer insights into the mind of a pilot.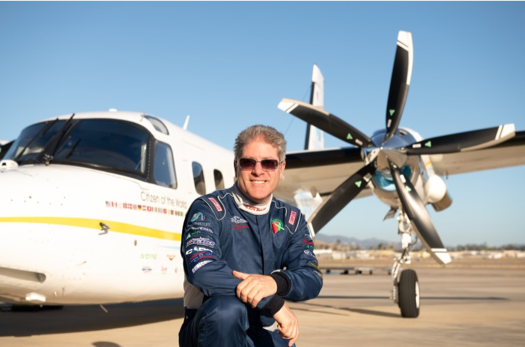 The Best Way to Get There…..
How does one go from Real Estate to circumnavigating the world multiple times? Well, the answer is long enough that Robert wrote a book about it. In addition to owning an impressive amount of property, flying around the world, conducting significant science experiments, Robert is also the author of many books. To add to that, Robert somehow also found the time to pursue an advanced degree in Spiritual Psychology with an emphasis on Consciousness Health and Healing. Lastly, Robert established a foundation to "raise and distribute funds for aviation-related charitable causes that support innovation, safety and education in the air and connect people worldwide in Oneness, Peace and Love." More information can be found here.
To Infinity and Beyond!
On Robert's current journey, circumnavigating the globe from pole to pole, he is working with NASA and other organizations to conduct large-scale science experiments about plastics in our atmosphere. In particular, microfibers that come from consumer products such as clothing that breakdown and end up in our water systems and food supplies. These processes haven't been studied thoroughly so Robert's efforts are making groundbreaking progress in this field. These experiments are part of an effort to understand human impact on the world how our materials interact with the environment. Read more about this by following this link.
Full Episode Available on Youtube: